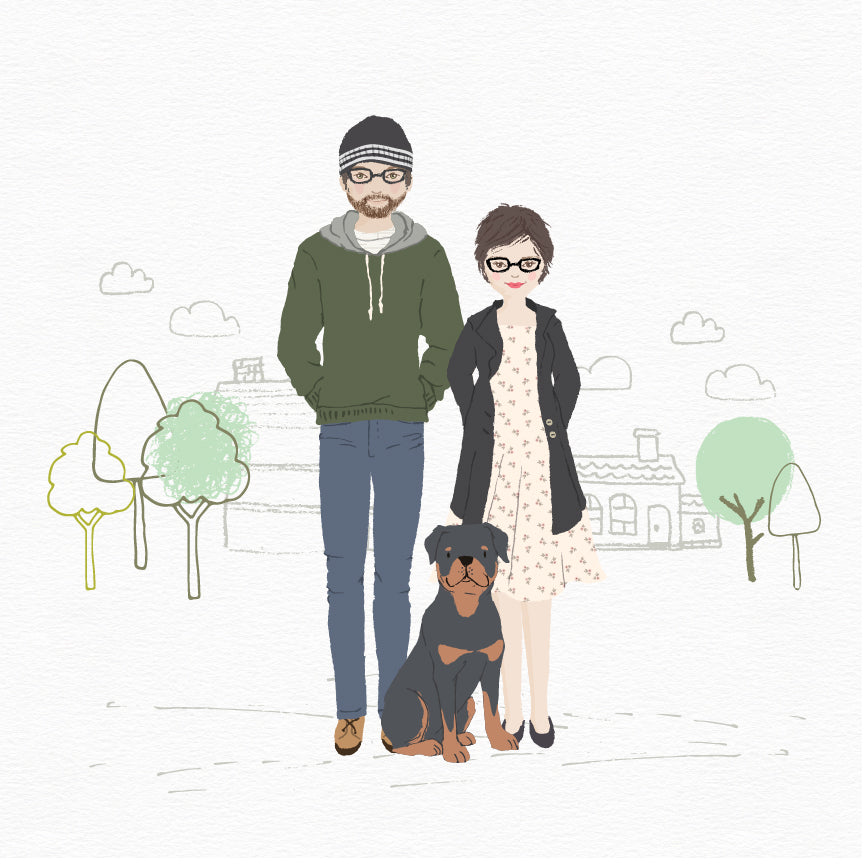 The story behind the LETTERCUT brand:
LETTERCUT started as a hobby/sideline in November 2019 when the cabinet business was slow. 
The first LETTERCUT product was large wooden letters for home decor. House numbers were added a few months later. It soon became obvious that this is what our customers needed and they loved our style. 
All products are manufactured and packaged right here in our shop with the help of 2 part time employees. 
We are a husband and wife team and are both makers at heart. Brian enjoys getting things to cut precisely and figuring out the best way to make something and keeps things running efficiently. Jane has always loved art, creativity and design. This helps keep as much design and communications in house as possible.
From the LETTERCUT customers
THIN MODERN 8 inch numbers

"We love our new address. Good quality and easy to install. Attentive service from Brian. Thank you!" - Lori-Anne

BOLD RETRO numbers

"LOVE these numbers - especially how modern it made our front look! Exactly like the photos & super easy to install. We're happy we went for the larger 12" size (looks awesome on the sidewalk as we have a large garden up front) & the spacers really helped to level it out better on jagged stone" -Aleks

THIN MODERN No letters

"All of the house numbers and accents I purchased were exactly as I envisioned! Modern, minimalist and great quality ! Thank you!" - Joelle
CLASSIC MODERN numbers

"Super happy with the 8" house numbers. The width is just perfect enough to stand out against our brick home exterior (we'd purchased another set from somewhere else that were so thin you could barely see them). Easy to install as well, and I paid for the expedited shipping and they arrived SO fast. Truly appreciate this shop." - Kate

THIN MODERN 5 inch numbers

"I ordered 5 numbers to replace my current house numbers. I had originally reached out to a different seller and I didn't get very good communication from them, and they just seemed bothered by my questions. Brian was very responsive, very polite, and to me that goes a long way! He followed up after they were delivered to see if I had any questions (seriously, who does that anymore?!) The numbers are perfect and look great on my house!" -Dena

THIN MODERN 12 inch silver

"The numbers came quickly with clear and instructions and went up easily! I'm super happy with how they look, and am pleased to report that they are very visible from the end of my 80' driveway!" - Lindsey
Other places you can find us
"Our relationship with you will be respectful of your needs and values. Our goal is that any interaction with you brings value, worth and connection to you and your life."
Instagram: 
We share a lot of our customer review photos on Instagram as well as designer secrets, installation tips and other stories.
Email: 
Emails about twice a month. The only exception is a special promotion or event that we think you would love.You will always get the first notifications for new or exclusive products and sales.We reserve the biggest discounts for our email family.
Pinterest: 
We are saving photos of our products creating curb appeal for customers as well as other topics that we think you would be interested in.
Facebook: 
We do have a Facebook page and we mostly cross post from Instagram so that those who prefer Facebook can still see what's going on.
Send us your questions or comments: