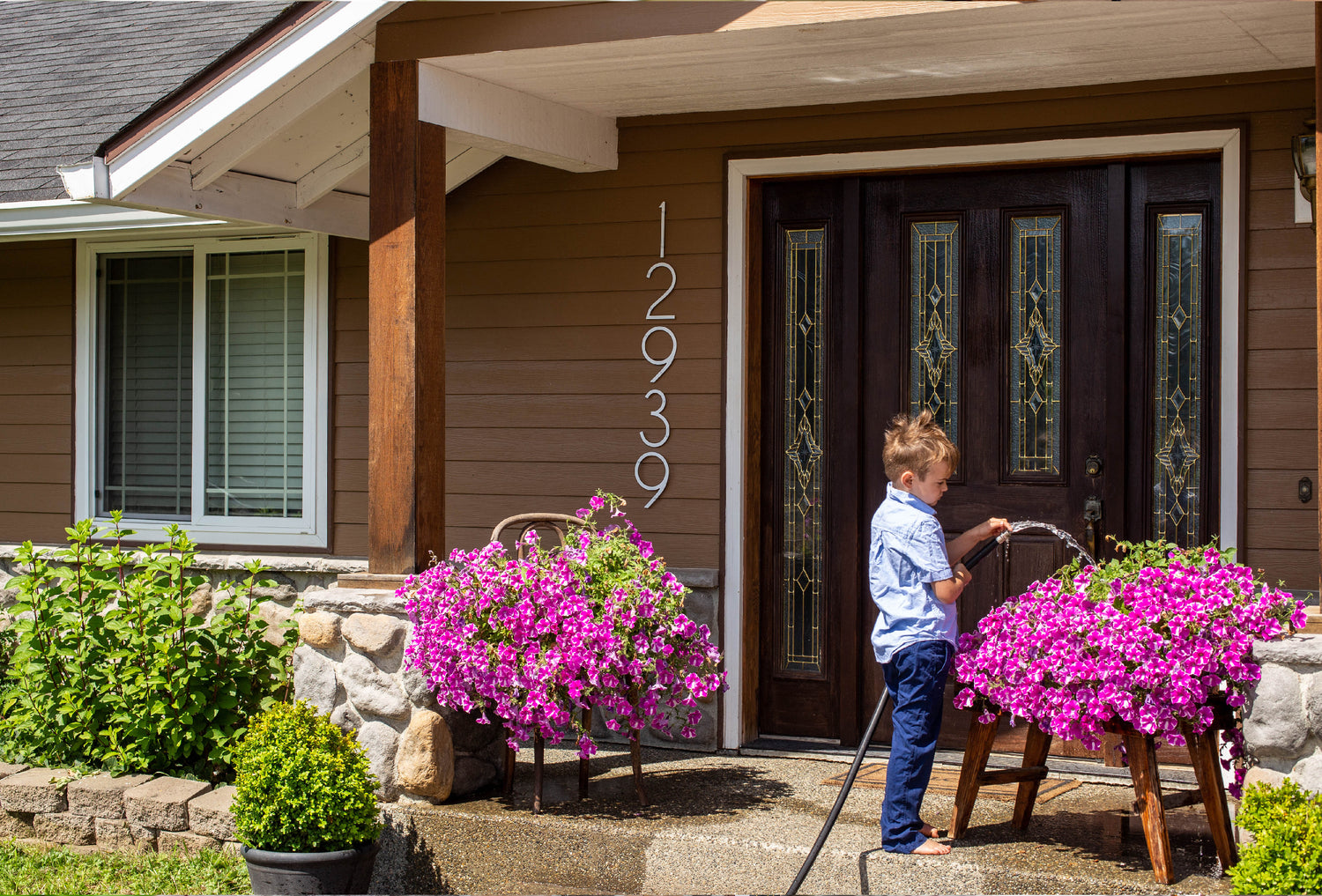 Commonly Asked Questions
Let's get your questions answered.
Collapsible content
Are the house numbers metal?

The house numbers are made from Aluminum Composite. If you look closely on the edge of the number, you will see there are 2 outer layers of shiny material, which is the aluminum (which is a metal). This aluminum is painted, and designed to stand up to the elements. In between them is a layer of plastic. This makes the numbers lightweight, durable and they will not rust. This material is used North America wide in the sign industry and is rated for outdoor use.
What are the fastening methods?

SCREWS + SPACERS FASTENING: Comes pre-drilled for screws and includes 3/8″ spacers to make your number stand out from the wall. 1.5″ screws are also included

PEEL + STICK FASTENING: No holes on the face and outdoor rated adhesive tape already applied. *NOT FOR USE ON STUCCO OR ROUGH SURFACES.
What is peel + stick?

This means there will be no holes on the face of your number and an outdoor rated adhesive tape already applied to the back. You will need to clean your surface, peel the backing off of the adhesive and stick into place. ADHESIVE OPTION NOT FOR USE ON STUCCO OR ROUGH SURFACES. Instructions for application are included with your order. *COLD WEATHER ALERT* must be mounted in temperatures over 50F or 10C.

Read this for how to use the templates for peel + stick installation.
How do I install numbers with screws?

1. Use a template. Find them here. Or space out the numbers on the wall, using masking tape to temporarily hold them in place and using a level to make sure they are straight.
2. When you are satisfied with the placement, predrill the screw holes – using the holes in the numbers as a guide.
3. Fasten with screws and stand offs, using the holes you
just drilled.
4. Remove template and you are done!
How do I fasten numbers onto brick?

We recommend predrilling the holes for the screws into the brick and using a wall anchor – available here or at your local hardware store.

Find blog post and photos here.
What is the most popular style?

The most popular LETTERCUT house number is the THIN MODERN 8 inch black number that is fastened with screws and spacers. No surprise - they look awesome on every house.
Glossy or Matte finish?

White and black house numbers are a modern matte finish. The matte finish eliminates glare and is easier to read.
What are my color options?

Black, Brushed Silver and White are the standard colors we carry. All colors have a black core which is visible from the side and gives a depth to the lighter colors. Includes coordinating color of screws.
What are my size options

The versatile 5 inch tall.
The popular 8 inch tall.
The easily seen 12 inch tall.

Please message us if you need something else than these sizes.
What are the shipping costs?

Free shipping to Canada and USA for all orders over $30.
You can see shipping charges at checkout. Includes Express and International orders.
Can I return my order?

Yes, we accept returns on standard items that are unused and in new condition.

Contact us within 21 days of delivery to return or exchange your item. You are responsible for return shipping costs.
Custom Orders

Contact Brian here: Brian@MyLetterCut.com

We do our best to accomodate you and help make a product you love. However, we do reserve the right to decline custom orders due to time and possibility constraints. 

Read this blog post showing some custom orders we have done.
Why are the numbers different sizes? I thought I ordered them all the same

The numbers and letters can vary slightly in height and width, even if you order all the same height. This is because font designers usually make digits with curves on top or bottom to be taller. It helps them appear more uniform visually and is not a defect. However sometimes this can make them appear larger or smaller than the digit beside it. If you have questions or would like to see a preview of your digits before ordering, please email Brian@MyLetterCut.com. You can also download and print free templates here to see them and help with visualizing them in your space.
Do you have a question that hasn't been answered yet?
Send us your question or request and we will get back to very soon.